Electrical - electronic engineering
The Faculty of Electricity and Electronics is making efforts to become one of the prime researching and training units on engineering in the South-East region, providing high quality programs in order to meet the needs of enterprises and organizations in the global dynamic business environment with a lot of changes nowadays.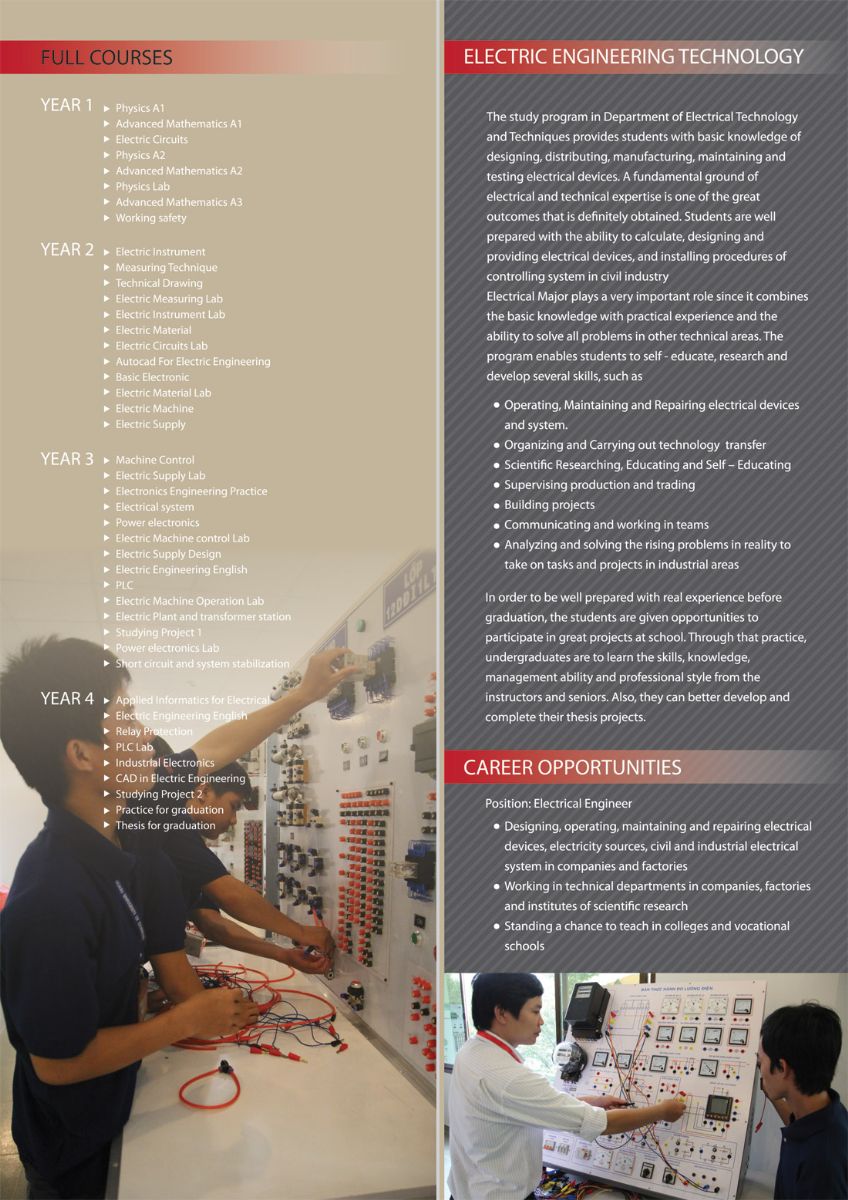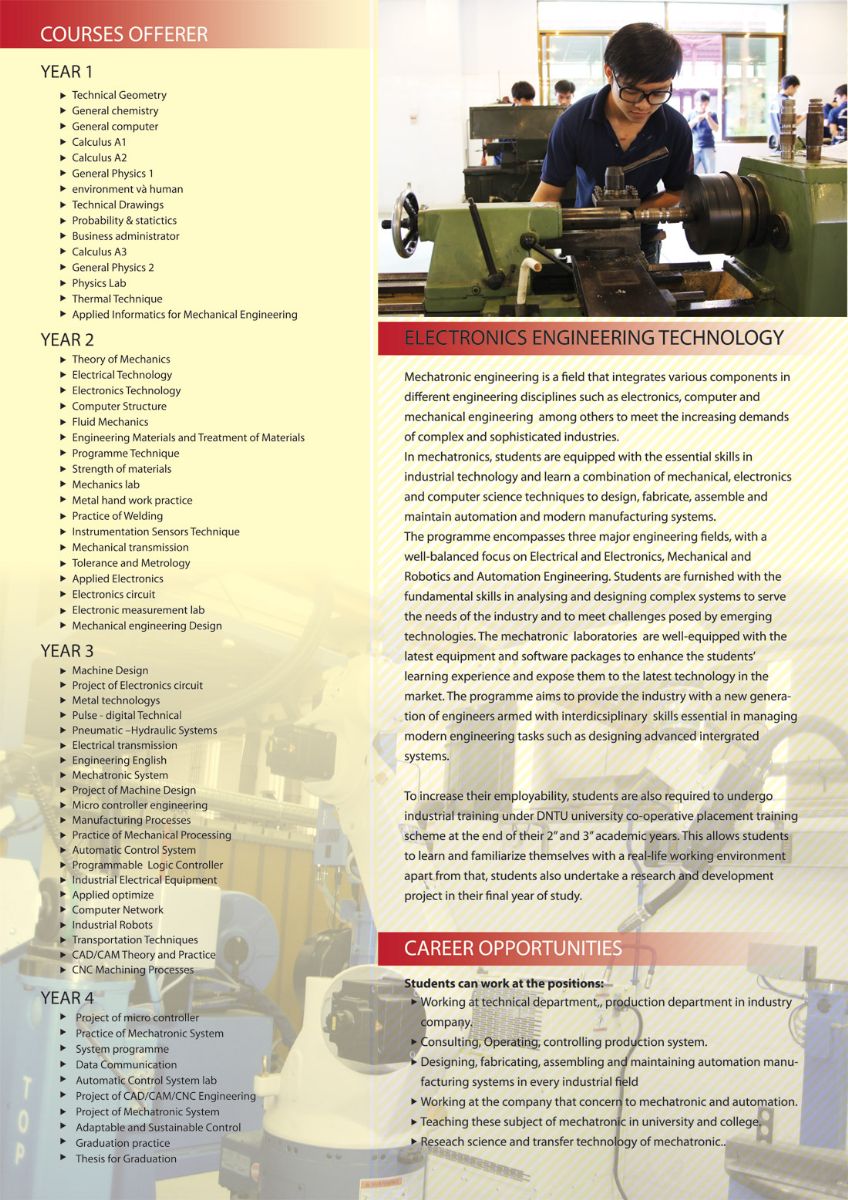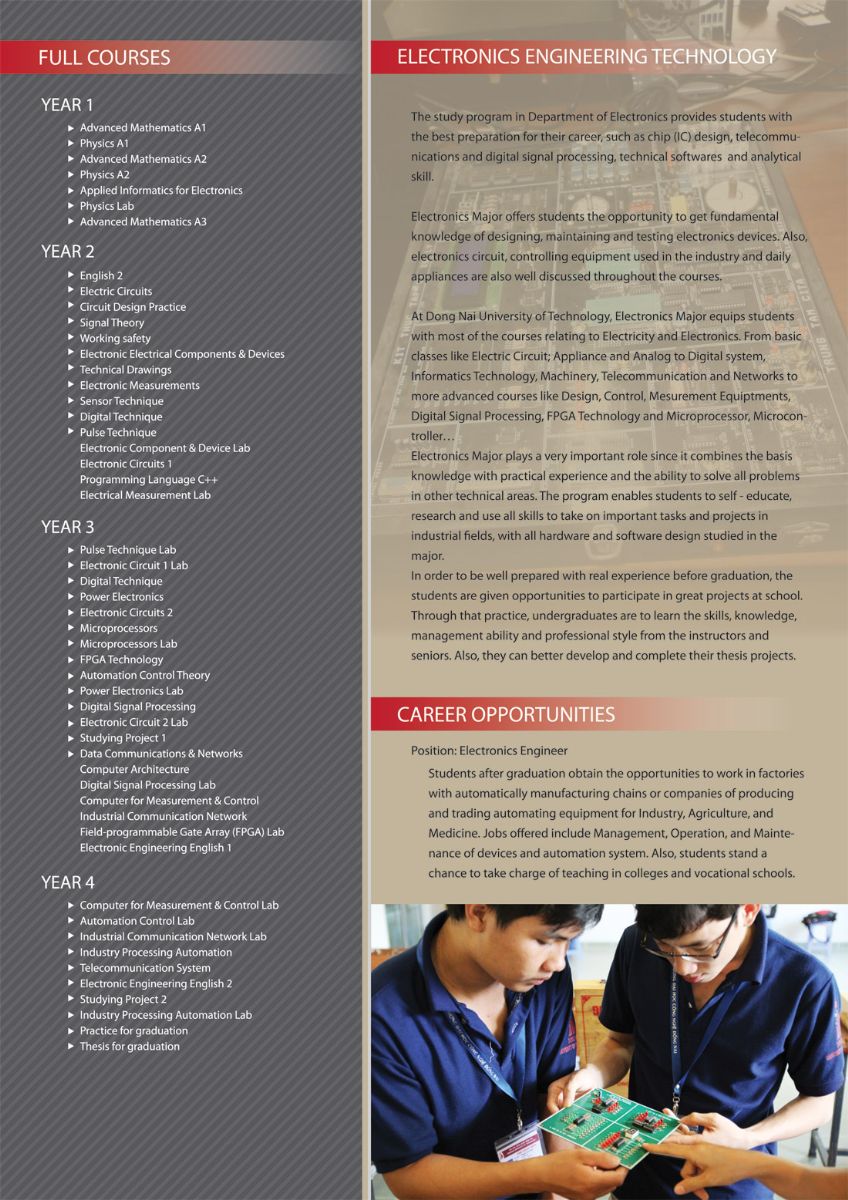 The faculty is equipped with laboratories, workshops together with equipment and machines meeting the students' needs as follow:
Basic electrical workshop
Electric circuit and electric measurement laboratory
Electric machines - electric machines and electric instruments controlling workshop
Practice models of pneumatic and electric sensors
Electronics and capacity laboratory
PLC laboratory
Microprocessors – microcontrollers laboratory
FPGA laboratory
Digital signal processing laboratory
Development
The Faculty of Electricity and Electronics gives students opportunities to have useful experiences in reality on the field of science and technology with the majors such as Electricity, Electronics. The programs aim to equip students with back ground knowledge of modern science and technology, working skills, leadership, and practical experience which are essential for students to be successful in the global working environment, contributing to the economic growth of Vietnam as well as the community development.
Core values:
Quality commitment: Modern and effective research and teaching methods help student achieve their own success and make contribution to social development.
Critical thinking: Students are given opportunities to think and analyze issues critically, to make decisions and build confidence.
Creation: Students are encouraged, supported, and awarded to their non-stop efforts to master knowledge and mental values.
Straightforwardness: Students are educated to those who work in the field of engineering and management, who are honest and reliable in all activities.
Respect for differences: Students are educated to respect for differences so as to recognize the values of diversity.
Social responsibility: Students are educated and nourished to become technical experts who have comprehensive realization of their own morality and responsibility for their profession as well as for the society.
View more
Electrical - electronic engineering