Dong Nai Technology University (DNTU) welcomed and worked with PUM senior experts from Netherland
In the morning on November 11th 2016, at Meeting Room 1 of Dong Nai Technology University, there was a welcome and working session with PUM experts – Netherland. International Relations Department took the lead role in welcome and operated working session.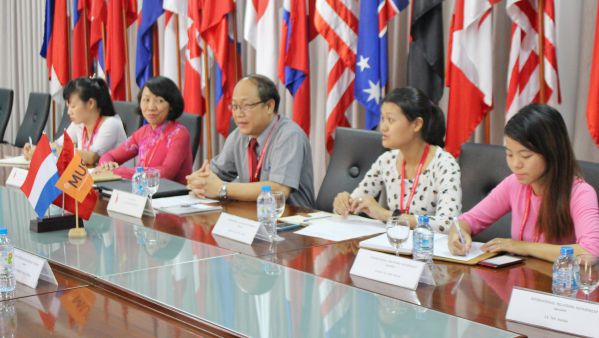 PUM experts – Netherland including: Mrs. Anneke Bal-Astma – Expert in Linguistics and Mr. Titus Visers - Director of Coordination in Vietnam.
Dr. Tran Duc Thuan – Vice Rector of Dong Nai Technology University, Dr. Tran Thi Quynh Le – Head of International Relations Department and the other staff of Public Relations Department and International Relations Department worked with PUM group.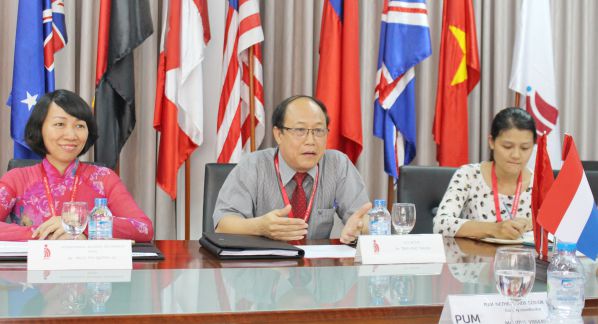 Opening working session, Dr. Tran Duc Thuan – Vice Rector had a speech to express his happiness when he was worked with Mr. Titus Visers and Mrs.
Anneke Bal-Astma. Dr. Tran Duc Thuan was very grateful because PUM had helped DNTU to find substantial solutions. By basing on those solutions, we have changed very much, they helped lecturers increase their soft skill, professional skill, attitude of lecturers and awareness of students.
Dr. Tran Duc Thuan presented about current situation. The classroom had more effective interaction between lectures and students. This change is thanks to DNTU has followed the suggestion of PUM for the activities of DNTU. Let students internship at enterprises for 2-3 months. Especially, we changed attitude of lecturers and invited psychologist to train for our lecturers. All lecturers were trained positive skills and understood how to change students' attitude to let students feel more comfortable through lessons. All of practical activities inside or outside school increased significantly. Students feel that learning is a funny activity not boring and we highly appreciate about PUM experts. In the exchange section, Dr. Tran Duc Thuan emphasized the role for teachers to perform three roles at the same time: First is lecturer, second is professional, third is manager. For example, in the class, lecturer take 2 role: First is a lecturer giving lessons for students, second is a manager to manage classes.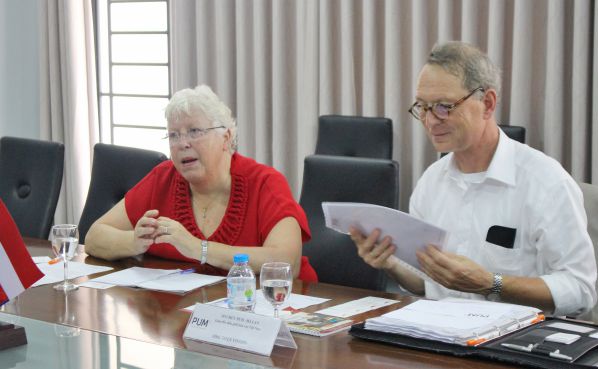 Mrs. Anneke Bal-Astma was very happy when lecturers and students of DNTU have changes. She also care about lecturers of DNTU when they approach new methods and apply CDIO into teaching. They need to change teaching methods, it is not reading-listening method, not involving interaction between students.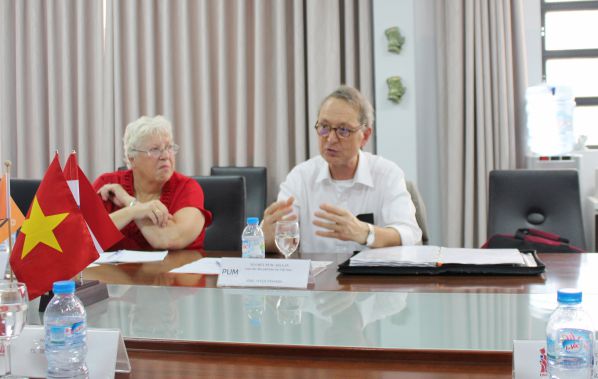 In discussing part, Mr. Titus discuss about: lecturers nowaday still using traditional methods & haven't receive for changing to new method and also apply CDIO in teaching, to combine CDIO then students must apply and interact with other students about should bring CDIO to lecture or not?
At the end of the working session. Dr. Tran Duc Thuan put forward to the experts about 1 or 2 DNTU lecturers to come Netherland for learning experiences and cultures with PUM, on DNTU side will provide flight tickets. PUM will provide accommodation. Mr. Titus and Ms. Anneke respond: We wouldn't promise about this but we will discuss and contact later, currently we are link with Hotel - Restaurants projects of some univeristies and colleges in Netherland which holding on Thailand, South America, Indonesia so it might be supportinf DNTU. Both sides take souvenir gifts and pictures.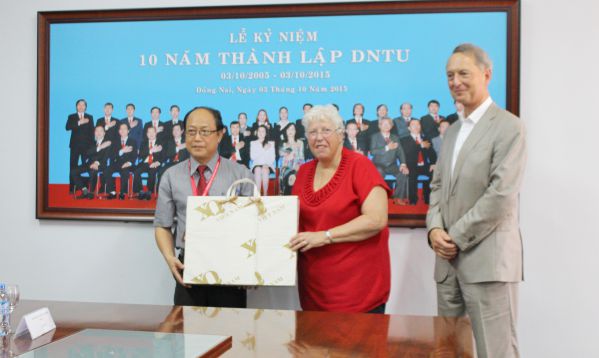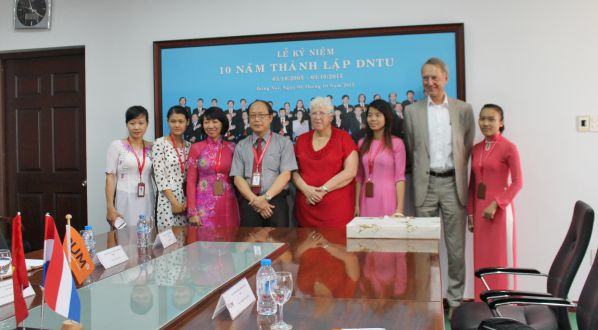 Phạm Thị Kim Ngân (International Relations Department)