Dong Nai Technology University (DNTU) welcomed and worked with Coleman College – Singapore
At 10am on September 8th, 2016 at the meeting room 1 of DNTU took place welcoming and working between Dong Nai University of Technology and Coleman College - Singapore. This is a working session of the International Cooperation program between the two schools based on the relationships that have been built.
Attending the meeting, on the side of Dong Nai University of Technology was Dr. Phan Ngoc Son - the Rector of the school; Dr. Tran Thi Quynh Le - Dean of International Relations Department; MSc Vu Thinh Truong - Dean of Business Administration; MSc Pham Thi Hai Van – Vice Dean of Faculty of Foreign Languages; MSc. Nguyen Dinh Thuat - Dean of Enterprise Relations Department; Mr. Nguyen Hoang Dung - Vice Dean of Communications and Mr. Nguyen Kim Hung - Specialist of the Department of Environmental Science. On the side of Coleman College - Singapore was Mr. Chay Yee – Chairman of the Board; Mr. James Tay - Regional Rector; Mr. Ryan Wang - Marketing Rector and Ms. Julie Nguyen Nghia - Representative of Coleman School in Vietnam.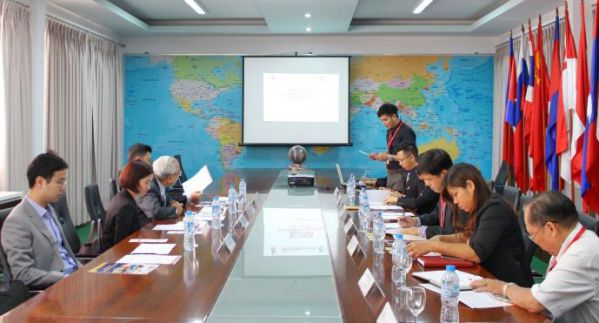 Representatives of the two schools worked at DNTU's meeting room on the morning of September 8th
At the beginning of the meeting, Ms. Tran Thi Hanh - International Relations Specialist introduced to Coleman Singapore some basic features of Dong Nai University of Technology. From the process of formation and construction to facilities, organizational structure, training majors, the number of students, faculty, geographic location as well as relationships between DNTU and universities and other colleges in the region and the world. On Coleman's side, Ryan Wang's presentation showed that it was a college founded in 1987 and is now one of Singapore's top 20 edutrust universities. This indicator can be considered as a passport for Coleman students to be learnt and recognized the National and International values. Therefore, Coleman has been visited by many senior leaders of Singapore as well as got many national and international awards. Coleman's specialty is its short, varied short-term training programs, which can combine learning and working in a Standard English environment. This opens up possibilities and prospects for cooperation between the two sides especially, when the DNTU students are being to need to improve their communication skills including English.
In the exchange between the two sides, Dr Phan Ngoc Son and Mr Chay Yee gave a feeling which is very friendly, relaxed and joyful about the potential for cooperation between the two sides. Here are some key points: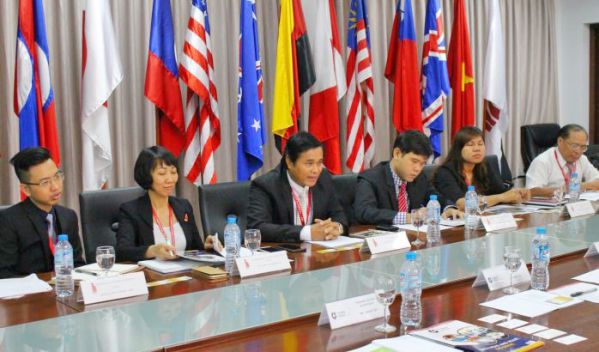 Dr. Phan Ngoc Son - Rector of Dong Nai University of Technology is exchanging ideas
Dr. Phan Ngoc Son: Hello lady and gentlemen. I am glad to have friends who have come to work together. This is a good thing. If the link is, we will create good strengths. Together with all of our people here, today we will discuss to going to some unified points for the purpose of training human resources for the business. How we can ensure output, ensure employment conditions for workers. Supporting and service of learners is a condition for our negotiation and work.
Mr. Chay Yee: Thank you Mr. Son and the teachers. I have been to Vietnam 20 years ago but have not got results since maybe it is not the right time. This is my first visit to Dong Nai and the university. I find the Principal and the teachers here very young and dynamic. I am delighted that Coleman, after 29 years of development and experience, hopes to give you the tools and confidence to work together. Singapore is not large so our school is not as wide as you, but we have all the necessary conditions for the two sides to work together. I totally agree with Master Son for the purpose of serving. We would like to start with ... the heart. Enthusiastically support all. I look forward to the long and lasting cooperation between our two sides.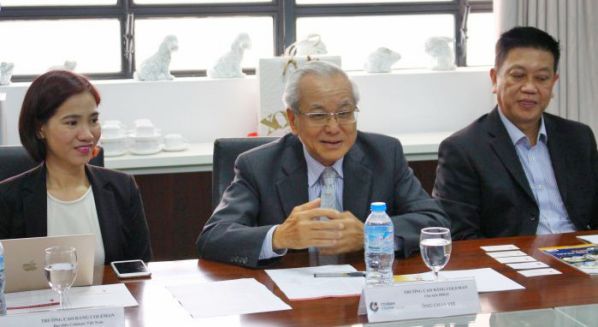 Mr. Chay Yee - Chairman of the Board of Coleman School - Singapore is exchanging
Dr. Phan Ngoc Son: In my point: what brings practical benefits for learners, for students, we do, whether how difficult it is. If you are determined, nothing is impossible. As I mentioned to students: if due to the financial difficulties that have to drop out of school, not dare to self-reliance, ignoring the opportunity to going to be poor forever is a crime. If this is the motivation, the opportunity, you must fulfill, do not hesitate. Act aggressively, that is the message.
Mr. Chay Yee: I think our thinking and policy are the same. All for learning environment, knowledge, English and skills. We will have many co-operations and start from the smallest things.
Dr. Phan Ngoc Son (laughs) I just came up with the thought: Is it possible? How to do it? We will sign the agreements but then sign them, we do it or not. I have a multi-level learning system, our students study too much, not many facilities and especially the summer courses are not in suitable conditions. What will we start from?
Mr. Chee Yee: Coleman has a variety of programs that are suit with each type of universities and colleges. My wife is also running a small school. In my experience, we first need to exchange information, have a strategy and then going to plan in detail and have time to complete. Moreover, must have a supervisor to ensure the best effect. During the deployment, we can discuss. I pledge that if we cooperate, I will be the most active member.
Dr. Phan Ngoc Son: I am thinking: why some universities and colleges that are far away from here, we can cooperate, but in Singapore where is not far, we cannot do. I think there must be a plan right now. Said to do. The documents I sign in the school must be understood as ordinance, must be done, work immediately. I suggest that after this meeting, Coleman's Department of International Relations and Marketing would discuss the details and report the results. I will also take all the Board of Supervisors to visit Coleman recently to tackle more specific issues, to bring about better co-operation.
Mr. Chay Yee: (Very excited) If you and the Board of Managers of the school system are able to visit our school, we are extremely excited. We will welcome the delegation with the most thoughtful spirit. Through Son's recent opinion, I am very confident in the ability to cooperate of two sides and I am very grateful to the teachers, especially the teachers, in the Department of International Relations.
On behalf of the school's leadership, Dr. Phan Ngoc Son wished good health and gave souvenirs to Mr. Chay Yee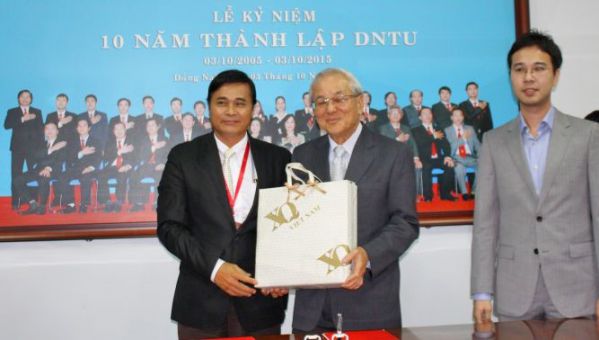 Dr. Phan Ngoc Son presented the souvenir gift to Mr. Chay Yee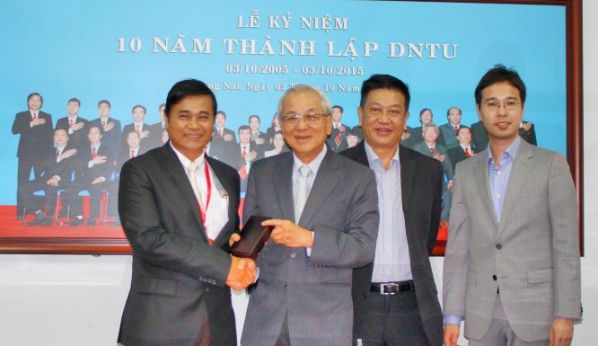 Mr. Chay Yee presented the souvenir gift to Dr. Phan Ngoc Son
At the end of the meeting, Dr. Phan Ngoc Son and Mr. Chay Yee representing two schools signed a memorandum on the issues that the two sides will implement in the coming time. hoping that DNTU and Coleman Singapore will become close friends, promote the strengths and advantages of each other to bring the best thing ever for the learners.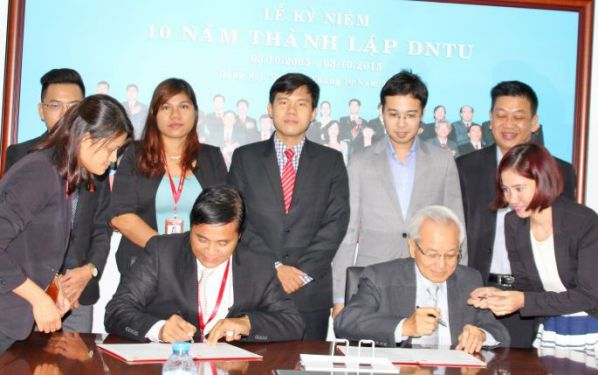 Signing between two schools​
In the middle of the sunshine of the autumn day, in the peaceful green space of the trees, Singaporeans friends have come together to visit and make friend with friendly, intelligent Vietnamese students and colleagues with true heart for cooperation and development.
Pham Thi Kim Ngan (International Relations Department)