Welcome Dr. Steven hales – Diablo Valley College, Contra Costa College and Los Medanos College (USA)
In the morning of June 20th, 2016, the DNTU Board of management met and worked with Dr. Steven Hales – Dean of International Education of 3 colleges system from USA (Diablo Valley College, Contra Costa College And Los Medanos College)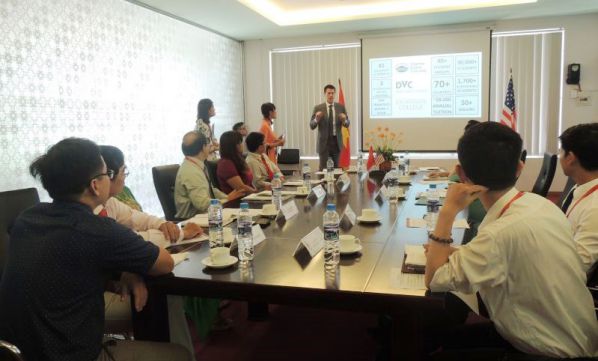 The system of 3 colleges: Diablo Valley College, Contra Costa College and Los Medanos College in San Francisco, USA. These colleges system have more than 40 groups of students with more than 30000 students currently studying from more than 70 countries around the world. Among them, the number of international students accounted more than 1700 students and 30 students from Vietnam.
Dr. Steven Hales also introduced in detail about the study programs with more than 50 majors from Science Technology, Business, Art … Among them, Information Technology is the most prominent.
Dr. Tran Duc Thuan – Vice Rector of DNTU thanks to Dr. Steven Hales and wished to have opportunities for collaborate between DNTU and the Universities, Colleges from USA.
Pham Thi Kim Ngan (International Relations Department)