The Signing Ceremony of tripartite cooperation "DNTU-PUM-Enterprises" with the aim of complete human resources training
In the morning of November 11th 2016, at the meeting room 3, Information and Library Center, there was a signing ceremony of tripartite "DNTU-PUM-ENTERPRISES" with the aim of training complete human resources required by enterprises. This is one of priority targets in the renovation process of Dong Nai Technology University.
Attended the signing ceremony, Dong Nai Technology University including: Dr. Phan Ngoc Son – Rector; Dr. Tran Duc Thuan – Vice Rector; Dr. Tran Thi Quynh Le-Head of International Relations Department; Mr. Nguyen Hoang Dung – Vice Head of Public Relations Department; Mr.Vu Vi Minh Quan – Vice Head of Entrepreneur Relations Department; Mrs. Mysung Cho – Korean Teacher; Mrs. Yen, Hsueh-Feng – Chinese Teacher and other representatives of 7 Faculties in university.
Representatives of PUM including: Mrs. Anneke Bal Atsma – Expert – Director of Project; Mr. Sijmen Visser – Expert; Mrs. Hanneken Teekens – Expert.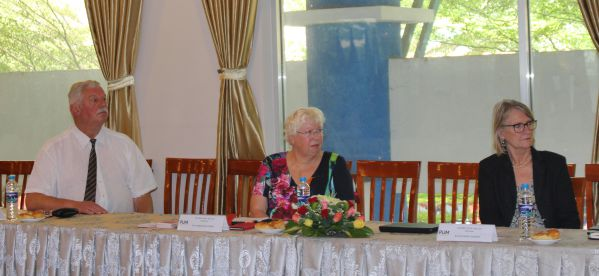 Representatives of enterprises including: Mr. Bui Dang Nam, Mr.Pham Van Vui; Mr. Nguyen Duy Hung; Mr. Nguyen Huy Hoang; Mr. Nguyen Thanh Binh; Mr. Pham Duc Thuan… and other respentative of some companies in Dong Nai province.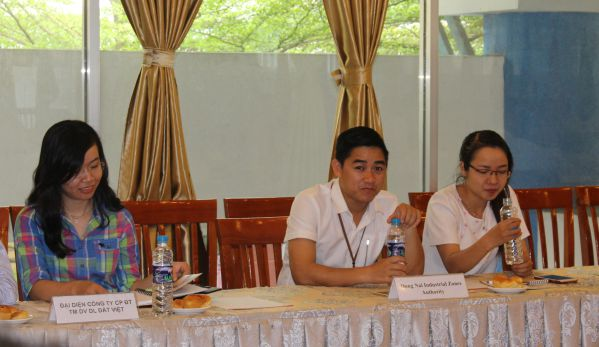 In his opening remarks, Mr. Nguyen Hoang Dung said: The issue of cooperation between universities and enterprises is a popular trend in the world bringing practical benefits to both sides. DNTU has been cooperating closely with many businesses and other universities in many fields. PUM (Netherland) is a non-profit organization with many excellent experts who have been cooperating and helping many universities in training and production development in small and medium enterprises. On that basis, today, the signing ceremony of tripartite cooperation has a significant meaning marks the cooperation and development of the above.
Before discussing and signing between the three sides, PUM experts and representatives of enterprises watched a video clip about the ten years development of Dong Nai Techonology University. With the creative, dynamic spirit and advantages of multidisciplinary university between the key economic and industrial areas, DNTU has great attraction. The university has been heavily investing in facilities, training talents, connecting with businesses and cooperating with many universities in the world to improve effectiveness in training, confirming the position and brand of the school.
After introducing Dong Nai Technology University, PUM sent messages to enterprises and DNTU through images of its activities in many countries around the world. Through pictures, PUM has proven to be a prestigious organization with more than 3,000 experts supporting small and medium sized businesses and projects. With the goal of sharing knowledge, funding, supporting education, vocational training. Ms, Anneke stated: "PUM will not support operations for schools when there is no commitment and connection from the businesses. The purpose of PUM's support is that graduates will have better skills to meet business needs; graduates will find jobs faster on the basis of educational programs that are adapted to international standards. In other words, PUM want to ensure effectively that its support must be directed towards the specific goal of shaping workforce to meet the needs of the businesses on the basis of acquiring knowledge associated with the formation skill, with the ability to work to make sure the school's training products will be used. The beneficiary of the school project itself will be the employee of the business.
The Project Director – Mrs. Anneke expressed her happiness because many of her comments were seriously received by DNTU and the school is actively promoting innovative projects, especially changing teaching methodology under CDIO. She shared some regulations that the school need to pay attention to such as: education should be in the real context of the profession; have a list of the knowledge, skills and attitudes that students need to master by engaging with stakeholders; Teaching programs and pedagogical methods must be designed in a consistent manner to ensure the desired outcomes. A systematic evaluation of the program, involving alumni to make the basis for continuous improvement.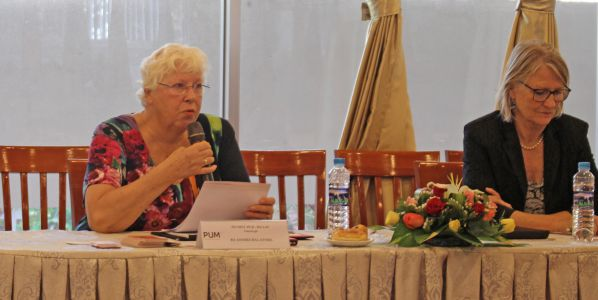 Speaking at the signing ceremony, Dr. Tran Duc Thuan – Vice Rector of DNTU sent greetings to all experts in PUM delegation and especially to Mrs. Anneke. After 11 years of development for the purpose of student, Dong Nai Tecnology University has been constantly searching for innovations in which PUM has supported teaching methods and improved lecturers' ability. Dr. Thuan expects businesses to continue providing employment support for DNTU's students hava a chance to develop.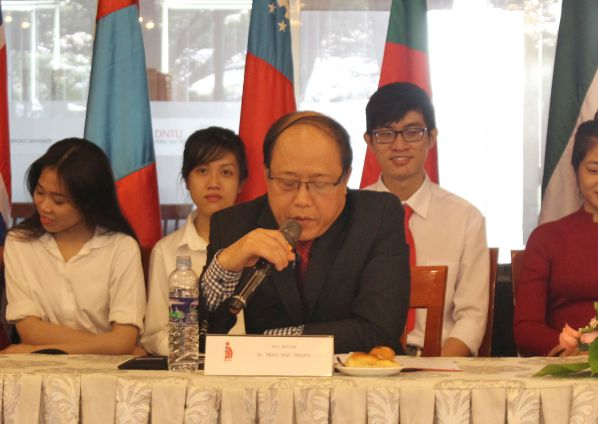 Business representative – Food Director of Aurora Hotel, Mr. Bui Dang Nam expressed his thanks to Dong Nai Technology University and experts in PUM organization for facilitating the connection between the businesses with the trainers to work together to find solutions in the problem of human resources. Mr. Nam said that his unit has received many students of DNTU to work and practice at his company. He is also completely satisfied with the quality training of DNTU. He said that the trend of renovation of the school in the training method has created man values, and he expected DNTU will continue to innovate to get more achievements on the basis of a multidisciplinary university in many fields. He hopes that businesses will have good students in the fields of restaurant - hotel management for enterprises to use.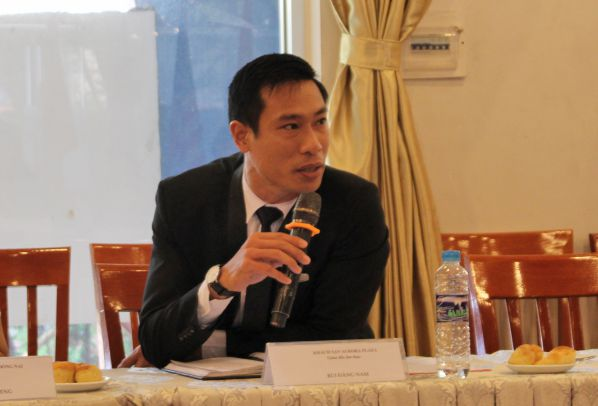 Speaking before the signing ceremony, Dr. Phan Ngoc Son thanked the PUM organization, Mrs. Anneke and enterprises. He wished the signing ceremony would promote development for all three parties.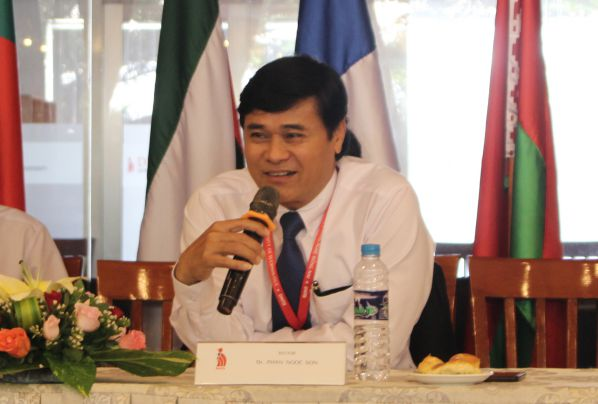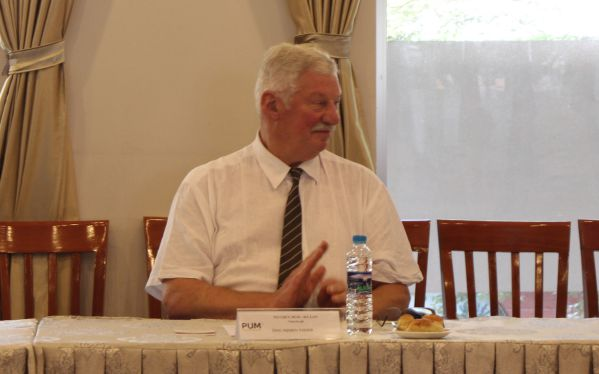 After the signing ceremony, representatives of enterprises, DNTU and PUM held the first plenary session.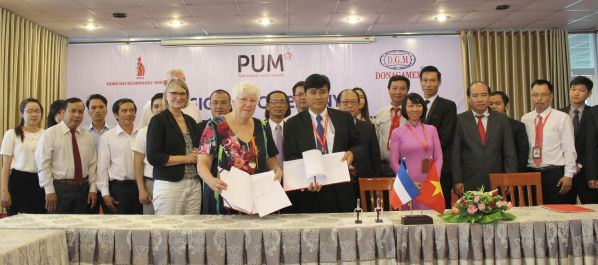 In the statement od reason for the meeting, Mrs. Anneke briefly introduced some issues to expect businesses to understand about PUM. Beside supporting and sponsoring, she is particularly interested in student training requirements. The question that she raised is: What do businesses need for graduates? Have you ever raised this issue for the trainers? Prior to her question, Mr. Nguyen Duy Hung – Director of Hung Phat Company said: the weakness of students graduated is the practical knowledge the thought and perceptions. How to change students' perceptions and thoughts, to make them more realistic. Therefore, he need a closely relationship between DNTU and businesses to solve this problem.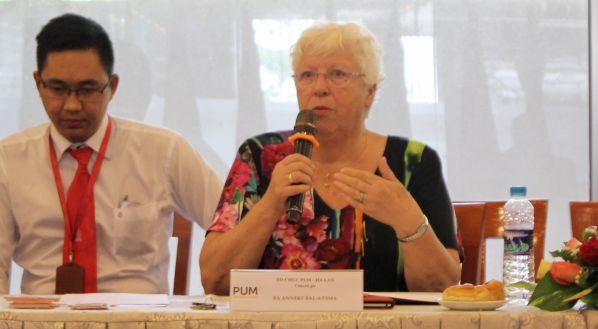 Sharing thoughts with Mr. Nguyen Duy Hung, Mrs. Anneke said: knowing the attitude and perception of student before the fact is very important, she advised the DNTU students to practice, work in the first year. The school has a policy to innovate teaching under CDIO, so the problem that the businesses just mentioned will be overcome.
Mrs. Anneke also raised the issue: How do businesses think about giving lectures to practice at company because lecturers need practical knowledge?
Before that matter, Mr. Nguyen Thanh Binh – Representative of Packaging Joint Stock Company said that he also wanted the school to send lecturers to company so that they could see what they needed to adjust their content and teaching methods. The businesses is completely supportive, no obstacle.
Representative of Dat Viet Joint Stock Company expressed his expectation to cooperate with DNTU in the process of training and coordinating with enterprises to directly participate in teaching, especially management and soft skills. This is the missing and weak points that the company is in need, so when receiving personnel, they no longer have to re-training.
Receiving enterprises' comments, Dr. Tran Duc Thuan said that we have many activities to improve the quality of education, especially when enterprises directly participate in training soft skills. In this regard, he hope that in the future, PUM will contribute more precious ideas to improve together.
As a manager of the projects and personnel of the industrial zones, Mr. Nguyen Huy Hoang expressed: "When dealing directly with businesses, especially foreign ones, I noticed many worried issues and presented to the provincial leaders. Our workers are having many major shortcomings that training needs to pay attention to. For example: not care about safety, health; Loyalty, attachment or change of job and view; behavior, cleanliness; how to solve conflicts, problems; personal self-interest is too great, so the effectiveness of teamwork is not high; poor planning; little dare to take responsibility or blame the circumstances, is very tricky. PUM recommends that lecturers have internship at businesses is very true. There are many thorny practical issues so he personally support this plan. Will the business re-impact the school like a cell? School need to expand cooperation in what aspects are very necessary.
Mr. Luu Hong Quan – Dean of Falcuty of Electronics – Electricity- Engineering and Construction is also very keen on the trainers to practice or join in the work but wondered whether the business allowed lecturers to attend. If the businesses allow lecturers to come to work together, study together, the industry has in-depth technology whether the business is satisfied? That is not a simple thing.
Compiled from the opinions of businesses and trainers, Mrs. Anneke expects the school to have appropriate solutions for both DNTU students and lecturers have the opportunities to approach and work with the business. This will bring the knowledge and benefits needed for many parties.
On behalf of the Administration of DNTU, Dr. Tran Duc Thuan thanked the attention and sharing of businesses and PUM organizations and expressed confidence in the prospect of cooperation that the signing ceremony bring. Program session was closed in happiness and trust.
Pham Thi Kim Ngan (International Relations Department)